SpotOn Director of Training, Haeleigh Hyatt, Featured on House Beautiful
0 comments
How to Keep Your Pets Safe During Dangerous Weather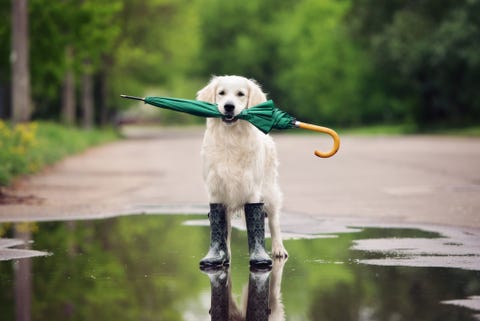 ONETOUCHSPARK / 
GETTY IMAGES
There are lots of things to worry about while being a pet parent. You've got to keep them from overheating during the summer, protect them from gnawing on toxic plants, and even hazard-proof your house against everyday items that could harm them. Now that the summer months are coming to a close, there is a new danger lurking: extreme weather. From a simple thunderstorm to a mighty hurricane, it's important to remember that any type of storm can frighten your pet. I'm not alone in this—a recent Business Wire surveyrevealed that 98 percent of dog owners consider their dogs to be members of the family and 82 percent worry about their dog's safety when out they are out of sight.
House Beautiful sat down with Haeleigh Hyatt, director of dog training at SpotOn Virtual Smart Fence, to talk about how to keep your pup safe during extreme weather situations.
Know how your dog will react under stress.
Anticipate how your dog might react to loud noises, darkness, water or other potential stresses that may occur during inclement weather.
"As a dog owner, knowledge is power, and the more you know about your dog, the more you will feel confident in your ability to prepare and keep them safe," Hyatt says. "It's important to understand your dog's history and stress levels. The more aware you are of your dog's behaviors and the behavior patterns, the better decisions you can make about how to handle your dogs in those types of situations."
If you know your dog hates thunderstorms, you can set them up in their crate with a toy or a calming treat, for example. Simple decisions like this can make a big difference when dealing with an emergency situation.
Consider GPS tracking.
High-tech dog collars seem to be everywhere these days. Well, this new technology has given dog owners the ability to track their dogs easily. These types of GPS collars can connect with an app on the dog owner's phone to allow them to use satellite tracking to locate their dog in near real time. Technologies like this ensure that if your dog gets away in the chaos, you can easily and quickly locate them and get them home safely.
"So with a collar like this, you can pin point the exact location of your dog in seconds. by utilizing a GPS tracker like that you effectively minimize the time between when your dog goes missing and when you locate them. It really minimizes those periods of stress when they may have gotten away from you and they allow you to find them quicker and get them to safety.
Prepare for the worst.
Just like with humans, dogs want to be comforted and know that everything is all right. Be there for your pup and establish some sense of normalcy or routine to the best of your abilities, Hyatt says. Stock up on dog food, water and blankets to ensure that your pup has enough supplies to get through a few days of no heat, power, etc. And in the event of an evacuation, try to grab a favorite toy to keep your pup happy.
Give them some audio therapy (no, really).
Some dogs can be really scared of the sounds that come along with dangerous weather. Hyatt's advice for breaking down that barrier? Desensitization tracks.
"I've used these many, many times. It's a soundtrack—either an actual CD or YouTube video—of a wide variety of sounds," Hyatt says. "Start it on a really low volume while you are cooking dinner or playing with your dog, and slowly increase the volume as your dog gets used to it. It might take a few days or up to a week, but if you do your due diligence, you can have a dog that's good with loud or unusual noises."